St. Cecilia CES held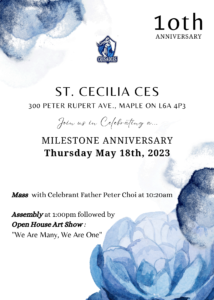 its Official Opening Blessing on May 18, 2011. Although we are in year 12 of operation, due to a hiatus on celebrations during Covid, we will now mark our Milestone 10th Anniversary on May 18, 2023. The occasion will entail a morning Mass celebrated by Father Peter Choi of St. Andre Bessette Catholic Parish, a social for dignitaries, former and present staff, followed by an afternoon assembly, combined with an Art Show Open House for the community, entitled "We Are Many, We are One" and a celebratory treat for our students. We hope that you can join us for the morning Mass or the afternoon Art Show!
We are proud to celebrate St. Cecilia CES!